Coronavirus: how artistic subjects can save the career of ballet dancer Fatima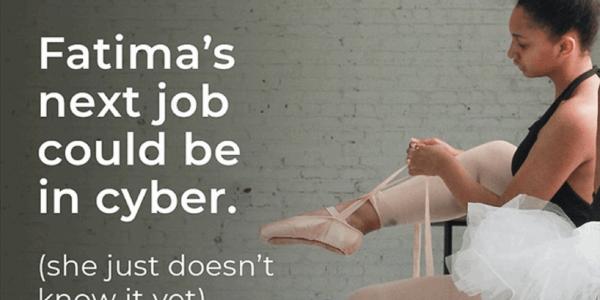 Most people now know Fatima, the ballet dancer. Fatima might like to dance, but a government recruiting ad seems to suggest that the easiest way to solve her cash flow problem is to suggest that she retrain to work "in the cyber".
Meanwhile, the government announced that teacher training scholarships for arts subjects – such as English, music, and art and design – were to be cut.
Recently, 400 musicians gathered outside Parliament to highlight the plight of the music industry during the current pandemic. Their performance of Mars, the warbearer, from Holst The planets, was designed to pressure the government to give more support to independent artists.
This is important, as independent musicians make up 72 percent of the industry, with almost half of them ineligible for government grants. Chancellor Rishi Sunak has decided that the government only supports "viable" jobs, and apparently being a highly skilled professional in the arts sector is not viable. In short, musos and actors are a bit like 2019 and need to be retrained.
The figures suggest that 296,000 people work in the music, entertainment and visual arts industry. I'm sure Rishi Sunak wasn't saying Adele needed to be a hairdresser, but he inadvertently said that the budding Spice Girls maybe really, really want a different career.
Coronavirus: are artistic subjects no longer "viable"?
But what kind of message does this send to young people who aspire to work in the arts? Unfortunately, the number of students enrolled at A level in the arts continues to decline. While art and design are in the top 10 subjects taken at A level in 2019, the best punchers were rod-based subjects: math, biology, psychology and chemistry.
Many schools cannot organize some A level subjects because they do not have enough students to take the course, which means that it is not viable to run it. As we go along, the word "viable" seems to become the word of the year, and we start to descend a slippery slope to a very depressing place.
Yes, the arts are important, but Stem topics are important too, and during a pandemic we rely on our Stem-ists more than ever. I watched Sir Patrick Vallance and Professor Chris Whitty during the daily coronavirus briefings. I clung to each of their words, mesmerized by the world of science that we depend on so heavily at the moment, and I still hope they have the answer as to how to start this thing in touch and enable to our artists to come back on stage again.
Thank God, with so many young people taking STEM subjects at A level, our scientific future is in good hands. But – and there is a but – what about the arts? We need them too.
For those of you who have doubts about the arts, I guess you watch Netflix? You'll need the arts to fuel your next frenzy of Sunset Sale.
Professionally, the arts take a hit. In schools too, the arts – and especially music – have been abused. There are thousands of amazingly creative teachers, reinventing the curriculum as they are forced to teach in non-specialist classrooms, with little or no access to equipment. It's fair to say that there isn't much that can be done about it at the moment.
The principals did their best. And, with such strict guidelines, there's not much leeway to facilitate a set of keyboards, a hacksaw, or 30 pallets of acrylic paint.
But, if we dare to look to the future, we will have to have a stimulus package. The arts industry may be in ruins, but schools have an important role to play in the regeneration of the country's arts industry.
Yes, the arts are expensive, but we must find a way to rebuild them.
Combine Stem and the Arts
The big question is therefore: how to do it? Well, let's start with Steam week. Or, should we say, rod week with an "A" added for good measure?
The arts include music, dance, theater, and art. Stem gives us science, technology, engineering, and math. Why is the "A" in Steam a fairly good representation of four topics, when Stem each has its own letter?
I wholeheartedly support the idea of ​​combining Stem and the arts. I once spent a very happy Steam week teaming up with the design department to make a boghorn: basically, an instrument made from a toilet. But they should both be seen as different disciplines. Boghorn aside, the "A" in Steam shouldn't be an afterthought; it must be celebrated, promoted and revered, because it matters.
If the pandemic has taught us anything, it's that communication, flexibility and soft skills are needed more than ever. These skills are often developed in artistic subjects. Saving the arts isn't just about making sure there is a band to play in the pit. Bad or an actor ready to play the role of Hamlet: it is about producing well-balanced young people, who have the necessary skills to embrace the world of work.
For now, Steam is to be replaced by Stem and Madd (music, art, dance and theater). And maybe Fatima might not have to retrain in cyber after all.
Emily Gunton is Music Director, Extracurricular and Outreach Manager, and School Counseling Teacher at Blackheath High School.