Making Moves: Sydney Dance Company's Mia Thompson on what it takes to become a full-time dancer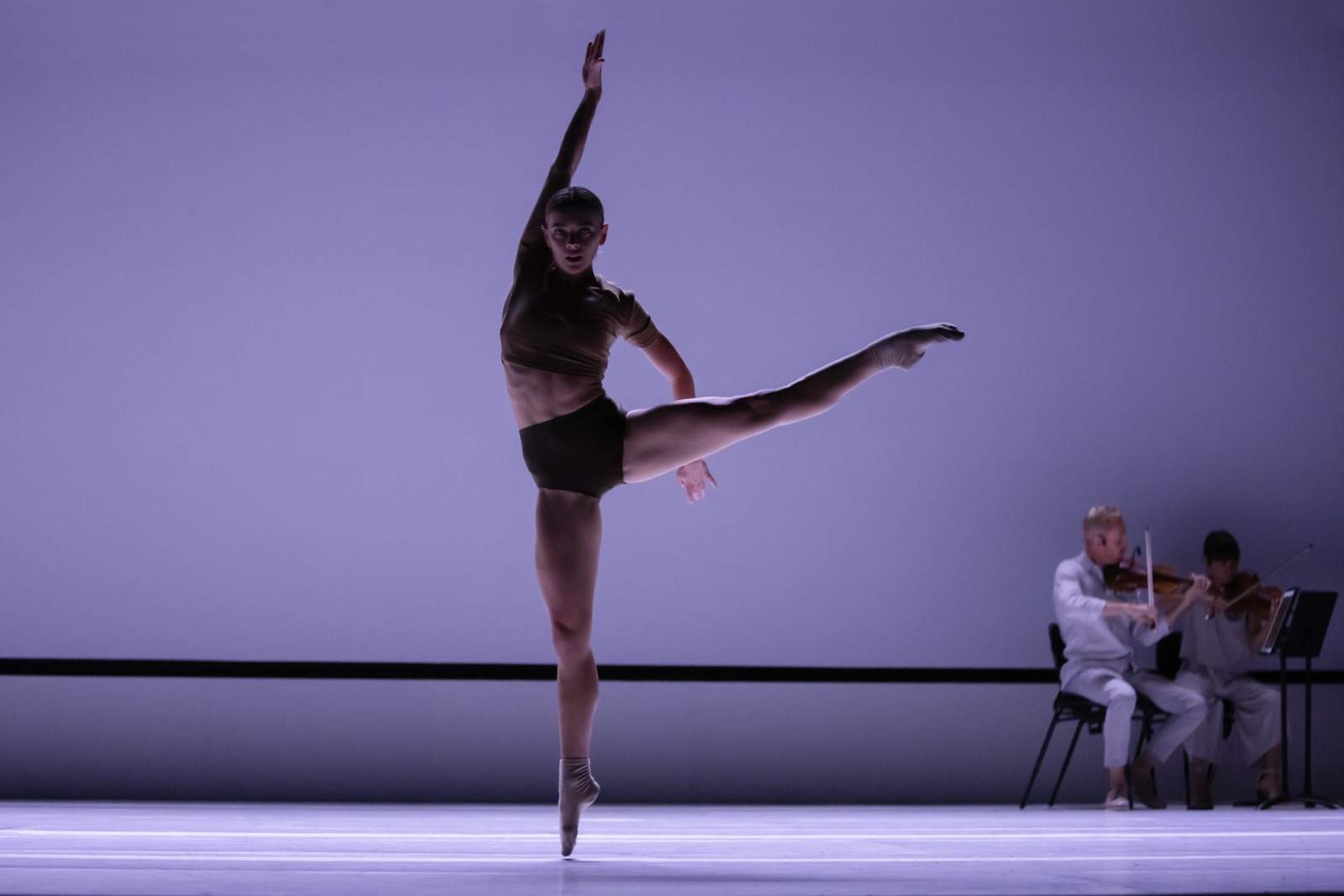 in partnership with

Passion. Vulnerability. Determination. That's what Mia Thompson suggests when asked what it takes to make a career in dance. The full-time entertainer speaks from a position of experience, having both feet planted in the world of dance since childhood.
"I started dancing when I was 4," Thompson shares. "I wouldn't say I was a superstar – I was running around in a cute little tutu thinking everything was fine. I have six sisters, so I think it was a way of getting us into a controlled space together who was also artistic. It's in our family's blood to be artistic."
Embarking on any creative journey is difficult – embarking on a 9-5 year journey that satisfies your inherent creativity and allows you to share your craft with the world especially is. With support from LG SIGNATURE – a proud partner of Sydney Dance Company and supporter of the wider arts community – we had a chat with Thompson, exploring her travels to stages around the world, her current position with Sydney Dance Company and what it takes to be a full-time dancer.

"I thought what you were doing with dancing was teaching"
Undemanding of her preferred style, Thompson fell in love with all forms of dance. Ballet, jazz, modern, hip-hop – for Thompson it was a joy to move. In high school, after seeing an older sister perform, she realized that the dance world went beyond the classes she was in. "I thought what you were doing with dancing was teaching," she laughs. "I saw the Queensland Ballet do The Sleeping Beauty and I was like, 'They get paid to do this?! I want to do that!'"
After graduating from high school, Thompson joined the professional program at Queensland Ballet. "I did a year but the director didn't really like me – he thought I was only doing it because my sister was. I was told that I would be unlikely to get a contract with them, and that I could stay and follow my training or find another program with a transition to another company."
A hard blow, but a blessing in the end. Because what is vital to thriving in the world of professional movement art? "A school or a teacher who supports you as an individual. You can go to the best school in Europe, but it might not be the best school for you. If they don't understand you, they won't give you the most you can get out of yourself as an artist. I was so stubborn to pursue a career in ballet, so being in a contemporary style [dance] company now, maybe Queensland Ballet could see something that I couldn't."
After training in Queensland, Thompson went west with a successful audition for WAAPA. Living away from home for the first time, evolving as a dancer and forming friendships, the wanderlust set in. Thompson secured a place at Scottish Ballet where, in 2018, she was promoted to principal dancer.

LANDING ON HOME GROUND
At the Scottish Ballet, she met her future fiancé. "He wanted to do contemporary and I told him about the Sydney Dance Company. We were just friends at the time, and I was like 'You should go'." He auditioned, walked in, and the pair got together, trying long-distance love for a year. In the audience at a Sydney Dance Company production—and seeing the joint found in his partner's body—Thompson had a revelation: "With ballet, you strive for perfection. [Sydney Dance Company] dancers – the way they moved and the understanding they had of their bodies – there was nothing I could relate to. I wanted that, I wanted to be able to speak for myself and my body."
Dance is a notoriously fierce industry. There are limited places, fierce competition and a relatively short career span.
"You have no idea how many dancers, even in Europe, are desperate to join the Sydney Dance Company. We are the premier contemporary dance company in Australia, if not the world. Young artists coming out of school are so eager to get in, they want to know everything about you, it's like we're celebrities. It's very easy to forget – I remember myself at that age, dancers walking past and my jaw dropping. Even before auditioning, I was the one watching the business."
The opportunity to audition presented itself and she took it. She got the long-awaited call and followed him Down Under, ending her time with Scottish Ballet as Cinderella.
As Thompson speaks, she exudes an almost palpable enthusiasm for her calling.
The Sydney Dance Company's stellar reputation is not only earned, but continues to be a work in progress. "If we're not playing, a typical day starts at 9:30 a.m. and ends at 6 p.m. You rehearse repertoire or create a new work, explore ways to move. You may have your steps, but every day I see dancers in the mirror or talking to each other trying to find new ways to grow it, it literally just keeps growing, which is beautiful in itself.

"THIS IS THE FLOW STATE"
Once seated behind a desk, it's hard to imagine a professional life dedicated to the exploration and execution of movement. Beyond perfecting form after form, there is an endless list of things to do.
"After a show," Thompson shares, "you'll see most of the dancers in a booth with their feet stuck in an ice bucket to cool off." Plus, there are warm-up, prehab/rehab classes (to protect those hard-working bodies), rehearsals, feedback sessions and self-assessment videos, collaboration, hairstyling, and make-up, staging and spatial notes. The final result ? Expertly controlled dancers command the stage, allowing the audience to connect and feel something.
When asked what it's like to perform on stage, Thompson's eyes widen and she lifts her chin. "WWhen I dance, I feel a great sense of freedom and liberation," she smiles. "It's as if I was in a trance. There's no better feeling than feeling completely lost on stage, surrounded by your colleagues. Working with them but also feeling completely alone in this world. It's my happiness, it's my sadness, it's my expressive therapy. It's the flow state."
Defining what it takes to be a full-time dancer is so subjective that it's not a simple task. But, when you think about Thompson's perseverance and determination, her desire to understand her body and collaborate on stage, and the palpable energy and emotion that buzzes around her when she talks about dance, it is clear that it is not just a job. "Some days can feel like work," Mia concludes. "But the minute you step on stage, you get lost in it."

Supporting the wider artistic community, LG SIGNATURE is a proud partner of Sydney Dance Company. Visit the website to learn more about the partnership.
Top photo: Pedro Greig